Newly reconstructed cottage Chata Artur offers accommodation, with a capacity of 16 - 20 spaces in 5 rooms. 4 of these rooms are in the loft and the other one is on the ground floor. All rooms are en suite. There is a common room with a kitchen corner, fridge and TV available for the rooms upstairs and a private kitchen for the room downstairs.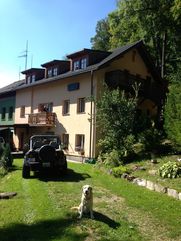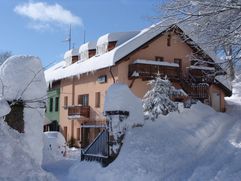 The cottage is in the heart of Krkonose mountains (Giant Mountains), in the scenic village of Cerny Dul (link in Czech). Located 300 meters from the centre of the village and 5 minutes walk from Skiresortu Černá hora - Černý Důl where you can find two funiculars and several ski tows to slopes of various degree of difficulty for skiers of all levels as well as for snowboarding and for children.
You may enjoy night skying as well as slope speed measuring, kid skipark and to borrow all the equipment you can visit one of the many skiservices.
Skipasses bought in this skiresort can be also used in skiresort Jánské Lázně, Pec pod Sněžkou, Velká Úpa and Svoboda nad Úpou (link in Czech). A free ski bus operates between these skicentres, running several times a day.
It is also possible to rent skiing and snowboarding equipment in local ski rentals.
Those who prefer cross country skiing can take funiculars to mountain Spicak and enjoy many cross country skiing routes with beautiful views over the Krkonose mountains. These routes connect Pec pod Snezkou with Spindleruv Mlyn.
4 kilometers away you can find Janske Lazne, with two cable railways to Cerna Hora and 12 ski lifts where you can find a lot of slopes - some of them with evening skiing.
Near Cerny Dul (link in Czech) you can find many atractions such as Muzeum of Krkonose, ZOO, scenic flights, hovercraft trips, local brewery in Vrchlabi, famous safari in Dvur Kralove, natural lido in Cista and so on.
It is also possible to find in Cerny Dul (link in Czech) an outdoor tennis hall, which is roofed during the winter, swimming pool, whirlpool bath, sun beds, gym, massage, skittle alley and discoteque or snow motorbike rental (it is the only place in the Czech Republic where it is possible to rent these).
You can also enjoy the pleasant atmosphere of various local restaurants with Czech and international cuisines with competitive prices.